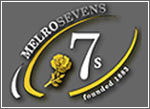 The grandfather of sevens tournaments, Melrose Sevens rugby tournament takes place every April in the Borders town and is the oldest and therefore, the original sevens tournament.

Melrose is a small Scottish town in the border region of Scotland, known for its love of rugby. It is also known for having created the sport of rugby sevens. Melrose was failing financially as a club when 'Ned Haig' stepped up with the idea of a sports day based around a rugby tournament. Who was to suggest reducing the number of players to seven per team is unrecorded but it has to have been one of the greatest decisions in the world of rugby.

From that tournament on rugby sevens has taken the world by storm, with over 213 million people watching it last year alone. But it is in the small town of Melrose that it has its ancestral home, and the original tournament continues to go from strength to strength.

The Melrose tournament continues to draw fans and teams in from far and wide, including such leading names as Bay of Plenty in New Zealand and Stellenbosch from South Africa. The competition is always fierce and it has a great tradition of flowing rugby.

But unlike some tournaments, Melrose has managed to keep what was important to it from the beginning, the feeling of carnival. Every year there are numerous other sporting events taking place around the tournament time, and locals and travelers alike mingle together for a few drinks and a few songs.

With youth tournaments and special 'sevens coaching clinics' led by such rugby dignitaries as British and Lions legend Jim Telfer the Melrose sevens is a wonderful mix of professional and amateur feeling.

The Melrose sevens is considered part of a series of Scottish sevens tournaments known as the 'King of Sevens' whereby teams are awarded points for where they get knocked out in the various competitions, which are then tallied into a league table with the winner being the team with the most points after all 10 competitions have been completed.

With previous winners of the Melrose tournament including the likes of Sale Sharks, Harlequins, Stellenbosch University and the Barbarians the tournament is still in the upper echelons of club sevens tournaments. With its ability to appeal to both the amateur fan and the professional player that is a scenario that is likely to continue for a long time to come.